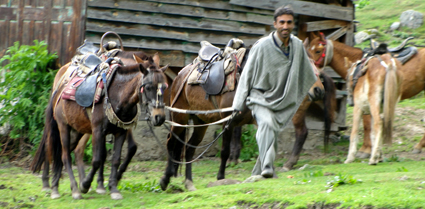 Photo by Tanmay Vora at Sonamarg, Kashmir, India
He must be about 16 year old Kashmiri boy – fair skin and bluish eyes that radiated amazing confidence. He was also our escort as we took a 4 Km. ride on a pony to climb a steep snow clad mountain and reach a glacier. We intended to visit the snow glacier that attracted a lot of tourists, and hence hired a pony who could take us there.
While we climbed, he managed our fear of riding a pony, he counseled us and guided us on various interesting spots en route – not something that we expected from a boy this young. He did his job well.
I was impressed with his conduct and on our way back, I asked him about where he belonged to. His answer impressed me even more.
He mentioned that he traveled from Srinagar to Sonamarg (about 85 Kms and about 2740m above sea level) to "serve" the "guests" like us.
We were tourists, but he referred to us as "guests" and his job (for which he got a meager reward) as "service". He took his work to the next level and for me, he was clearly a leader without a title.
This also got me thinking – what if well-bred, educated professionals stop looking at their jobs as a "transaction" and start treating it as a "service"? How different our workplaces would be if we adopted an attitude to do our best without getting confined by boundaries of documented roles and responsibilities? What if we started focusing on our "contributions" more than our "acquisitions"? How different our workplaces would be then?
We need more such servant leaders who need no title to lead!