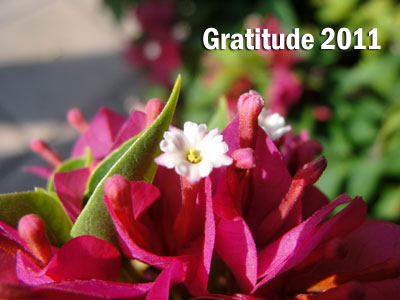 Gratefulness fills me whenever a year ends. Each year brings along new hopes, some challenges, many opportunities. When the year ends, we look back and ruminate on how we did to seize those opportunities, to face those challenges and what we learned out of it all.
One of the things I am so grateful about is this blog, and everything it brings along – clarity in thinking, expansion of my world view, some fantastic (and often life changing) lessons and many encouraging friends. I meet these friends through the words they write – through their passion for sharing ideas and make a difference. Here is a partial list of such friends and mentors on blogosphere that I am so thankful for.
A blog exists because people read it. I wrote last year, "This blog is a skeleton, a tool. Whatever I write here is flesh and blood. But readers, i.e. YOU are the soul." So, thank you for reading and supporting QAspire Blog. I have enjoyed all the interactions with you via my posts, comments and interactions through Twitter and QAspire Facebook page.
Merry Christmas!