This week, SHRM India released a list of "Top 20 Indian HR Influencers on Social Media" where I am featured at #4. It came to me as an unexpected yet a very pleasant surprise. Readers of this blog know that I focus on the people, leadership and culture aspects of quality. I write on topics at the intersection of Leadership, People and Quality.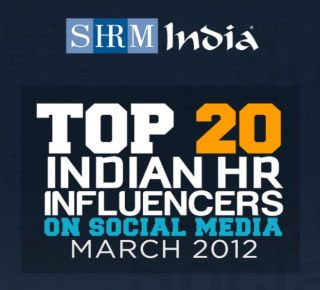 The list has some very prominent leaders including Kavi, Corporate Learning and Development Professional, Vineet Nayar, CEO of HCL Technologies, Gautam Ghosh, a veteran HR enthusiast and blogger, Abhijit Bhaduri, Chief Learning Officer at Wipro and so on. This recognition emphasizes one very important fact – that in a knowledge and services oriented world, people management and leadership moves beyond the confines of traditional HR Department. Every business leader, middle manager and aspiring leader has to play the role of an HR Manager – to inspire people, tap on their strengths and motivate them to deliver their best work. They have to to understand the nuances of dealing with people if they want to build a culture of excellence. This list is a step forward, because it starts an important debate on social media influence and its role in advancing conversations related to specific topics.
Here is the methodology SHRM followed:
Coming up with a list of Top 20 is a path-defining innovation as it entails sorting through the HR noise to find voices that reflect engaging ideas and insights. For this study, SHRM India compiled a list of 50 Twitter influencers and then shortlisted 20 individuals on various parameters including the follower count, HR related tweets, retweets, and impressions. Data for this report was collected over a period of four months, starting in November 2011 through until the end of February 2012. In a unique spin to gauge the influence of HR conversationalists on immediate audience, the SHRM India Influencer Score was also used for the first time. It factored in the relative standing of an influencer on the basis of followers and impressions, which were established as two key percentile ranks.
I am excited about this recognition because it recognizes the importance of "human factor" in quality. That people are at the core of excellence and all processes, metrics, tools and technologies are enablers of quality. People make it happen.
Additional Info:
– You can also download this report from SHRM India's homepage.
– Here is the coverage of SHRM's Top 20 list on Business Standard where I get a mention.