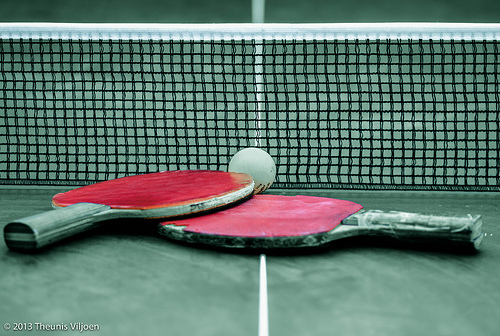 When it comes to playing table tennis (ping pong), I like hitting hard smacks. But in this particular game, the opponents were playing defensively. The first few times I tried smacking the ball, I lost the points.
Just then, my doubles partner whispered something in my ears, "Reciprocate your game. Don't just play your style, but adapt to how they are playing."  When I did adapt, my game stabilized and that added some pressure on the opponents. I learned that adaptability and contextual alignment is so important – be it family, work or a game of ping pong!
I acted on my partners advice and focused on just one simple thing: pass the ball consistently to the other side of net. No heroic shots when simple shots can do. The opponents lost a few points just trying hard to disrupt my rhythm. I realized that doing simple things consistently over long haul and improvising every single time  can sometimes be more powerful than doing something drastic or heroic in a spurt.
"Sports do not build character. They reveal it." – John Wooden

 
In a yet another singles game, my opponent was anxious. A technically sound player, he took his game too seriously. He practiced through the day and would clinch his fists to curse himself every time he played a wrong shot. The driving force behind his hard practice was an imaginary fear of failure; that kept him from really enjoying his game. By the time game started, he was already exhausted! When your practice matures, it should help you gain more composure, not more anxiety!
– – – – –
Don't miss first part of this post (written in 2010) – A Few Parallels Between Sports, Life and Leadership
– – – – –
Stay Tuned! Subscribe via RSS, Connect via Facebook or Follow us on Twitter. You can also subscribe to updates via email using the section at the bottom of the page.
– – – – –
Photo Courtesy: Theunis Viljoen's Flickr Photostream