My dad retired as a Library Science professional soon after which the profession of Library management was transformed by digital forces. With the rise of digital content, we now needed different kind of librarians who could help us walk through this maze of information and find what we need, not just deal with only physical books. The way libraries are structured and run has completely changed (and it continues to evolve).
In past 15 years, we have seen number of businesses being disrupted or transformed completely by digital forces. This may accelerate in future with the continuous rise in automation.
Experts predict that we are heading towards a "jobless future" and that it is both an opportunity and a threat. Even if we don't think too much about what happens over a long frame of time, we can still agree that what bought us here (technical skills, expertise etc) may not be sufficient to take us towards success in a volatile future. What skills do we need more of as we head into future?
I read an interesting (and long) post by Janna Q. Anderson titled "The Robot Takeover is Already Here" where she says –
"Skills young people should be learning to be prepared for a career in 2020 include:

The ability to concentrate, to focus deeply.

The ability to distinguish between the "noise" and the message in the ever-growing sea of information.

The ability to do public problem solving through cooperative work.

The ability to search effectively for information and to be able to discern the quality and veracity of the information one finds and then communicate these findings well.

Synthesizing skills (being able to bring together details from many sources).

The capability to be futures-minded through formal education in the practices of horizon-scanning, trends analysis and strategic foresight."
Here are a few skills that I would like to add along for succeeding now and in future.
The ability to learn constantly in a self-directed mode

Social Intelligence and ability to connect with people beyond geographical barriers virtually in a deep/meaningful way and collaborate.

Adaptive mindset to evolve the thinking and learning to keep pace with the pace of changes around us.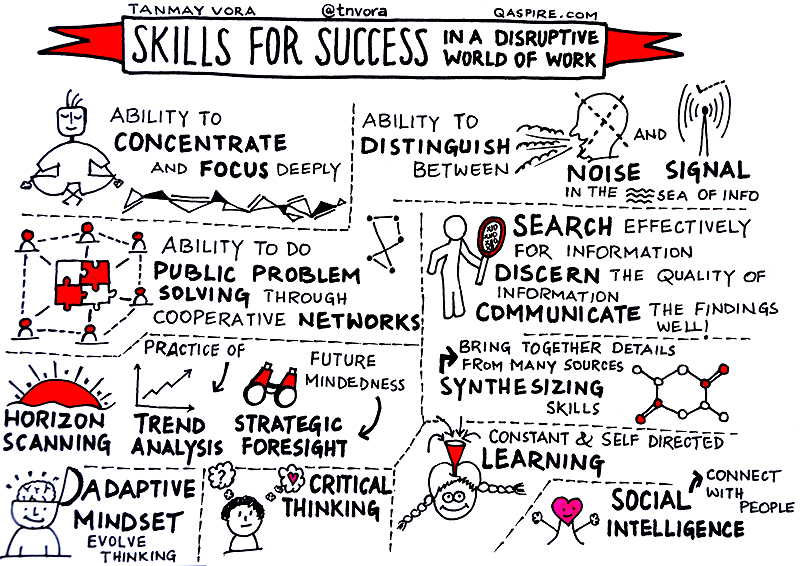 "The secret of change is to focus all your energy, not in fighting the old, but on building the new." – Socrates
The future that comes to us (and generations to come) will always be uncertain and outside of our control. The key to navigate through uncertainty is to focus inwards on developing agility in skills, learning and mindset – all of which are completely in our control.
Update 29.07.2016 – And here is a sketch note version of Fast Company's article "These Will Be The Top Jobs In 2025 (And The Skills You'll Need To Get Them)"