Leadership starts with influence and influence starts with trust. Ability to truly connect with others is vital for leaders to build an environment where a leader is trusted for the intentions before being respected for competence.
I once worked with a new CEO who came on-board, took charge and immediately got into action. I remember when he first met a group of senior folks, he started with his introduction and talked at length about his past experience, competence and all the great things he had accomplished. Soon after requesting a short template introduction from all of us, he started off with his grand plans about the organization. He clearly failed to build a non-threatening space for other leaders and came across as someone who was ego-centric and hard-nosed.
Our first instinct as human beings when we assume a leadership role is to show our strength, competence and skills and prove a point about our fitment to the role.
I was reminded of the CEO (and many other leaders I worked with) when I read the classic Harvard Business Review article titled "Connect, Then Lead" which says,
A growing body of research suggests that the way to influence—and to lead—is to begin with warmth. Warmth is the conduit of influence: It facilitates trust and the communication and absorption of ideas. Even a few small nonverbal signals—a nod, a smile, an open gesture—can show people that you're pleased to be in their company and attentive to their concerns. Prioritizing warmth helps you connect immediately with those around you, demonstrating that you hear them, understand them, and can be trusted by them.
I think of the CEO again who was, through his aggressive show of strength, able to generate dispassionate compliance to his decisions. One of the biggest challenges for leaders is to create an ecosystem where people exercise their discretion (tapping into intrinsic motivations). Trust is a good place to start.
I strongly recommend that you read the HBR article "Connect, Then Lead" by Amy Cuddy, Matthew Kohut and John Neffinger for rich insights on this topic.
Here is a short summary of key insights that stood out for me from the article in a sketch note form.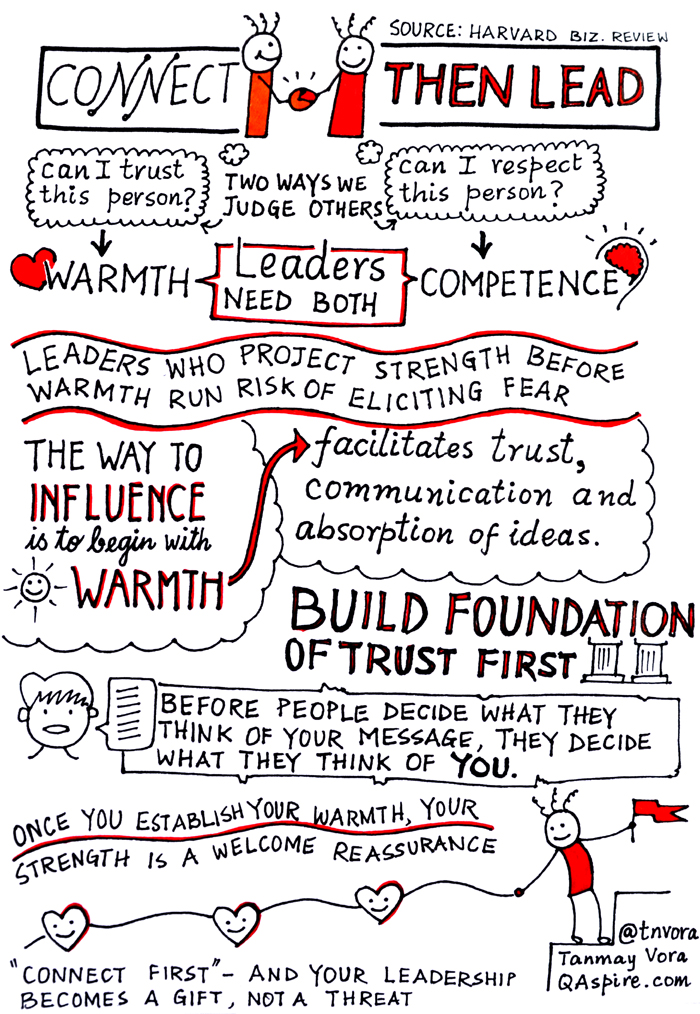 Related Resources at QAspire