At the heart of living a creative life is ability to do something about things you don't like. What we do instead is keep complaining.
We all have our own circle of influence – things we can change ourselves or exert our influence to create change. Everything else outside this circle are circumstances (or circle of concern). We need to simply accept them and move on. I my post "Circle of Influence", I wrote –
Acknowledging these concerns is important but constantly spending our scarce energy only on these concerns is futile. When faced with situations, challenges and concerns, it may be useful to ask the following questions:

Can I do something about it myself? Is it under my direct control? Is the onus of resolution or change on me? (Direct control)

If not, can I influence someone who can address/solve/change this? (Influence)
In this context, I encourage you to spend 20 minutes watching Tina Roth Eisenberg's super inspiring talk at 99u Conference where she describes her journey of building creative businesses that stemmed from her frustrations. In the talk, she outlines 5 powerful rules of life and one of them is "Don't Complain, make things better."
In this thought-provoking talk with many takeaways, she says,
"I have a rule: If I keep complaining about something, I either do something about it or let it go. – Tina Roth Eisenberg
That truly resonated with me and I created a quick Doodle Card that I hope to print and put it on my soft board as a reminder every time I find myself stuck in the whirlwind of complaining.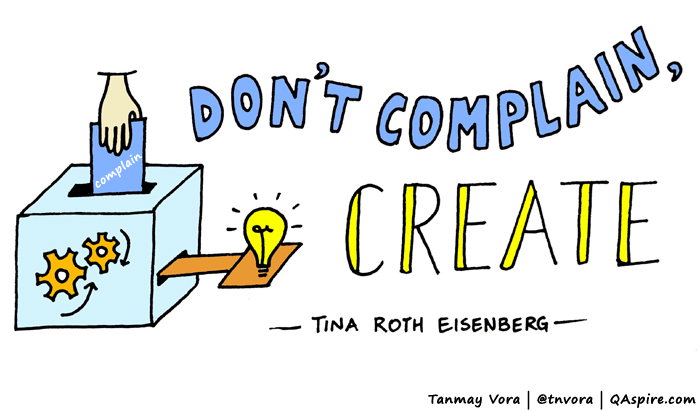 Also Read at QAspire: