As an organization grows, managing the flow demands work items to move from one team/department to another. In quest to make these teams accountable, very specific KPI's are established and that breeds non-systemic thinking. People look at meeting their own numbers and push the work to next stage and often, what happens is that while people win (in short term), the system fails. Every team meets the KPI numbers and yet, customers remain disgruntled.
Peter Senge, in his book "The Fifth Discipline – The Art and Practice of Learning Organization" outlines 7 organizational learning disabilities. He says,
"It is no accident that most organizations learn poorly. The way they are designed and managed, the way people's jobs are defined, and, most importantly, the way we have all been taught to think and interact (not only in organizations but more broadly) create fundamental learning disabilities. These disabilities operate despite the best effort of bright, committed people. Often the harder they try to solve problems, the worse the results. What learning does occur takes place despite these learning disabilities – for they pervade all organizations to some degree."
It then becomes very crucial that we identify clearly these learning disabilities. Here is a sketch note summary of these 7 learning disabilities.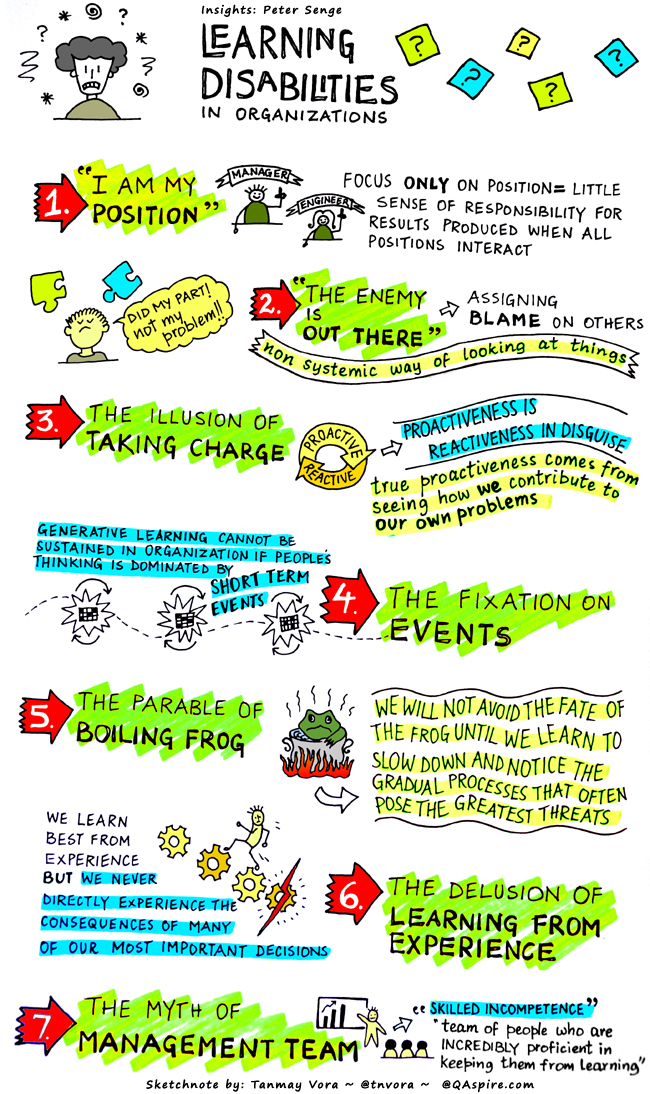 Critical question then is: How to we overcome these learning disabilities and truly create an organization that learns better? Peter Senge answers that question through his 5 disciplines of learning organizations that I have written about in the past. Here is a sketchnote summary of five disciplines:
More on Creating Learning Organization at QAspire: