I often meet business leaders who are so full of themselves. When interacting with others, they try to keep the needle of focus constantly towards themselves, their business, accomplishments and stories.
It is easy to get caught up in the self because after all, you are a up there and you make things happen (or so you think!).
In one of the leadership workshop I attended in early years of my career, the trainer beautifully described humility as
"Humility is like the banks of a river that gives direction to the flowing water without possessing it."
Leadership in any form is about others. A leader is just a means to an end. A steward of the larger cause, whatever it may be.
Like banks of a river, leader holds the context together in order to channel the energies of people. A leader enables flow (progress) by enabling others, asking right questions, coaching others and learning in the process. The focus of a leadership conversation is the needs of others, needs of the context and needs of the customers.
I read Dan Rockwell's recent post titled "The Seductions of Arrogance Compound the Elusiveness of Humility" where he outlines 5 practices of humble leadership. It is a thought provoking post that emphasizes on 'practicing' humility by focusing on others.
Some critical questions to consider, whether you lead a kid, a team of professionals or an organization, are:
How often do you, as a leader, brag about others?

How many times do you turn the focus of conversation on others?

How many times have you stood up to accept responsibility, especially of failures?

When was the last time you thought about amplifying someone's strength rather than focusing on their shortcomings?
Here is a quick short sketchnote summary of Dan Rockwell's 5 practices of humble leadership (Read the full post here)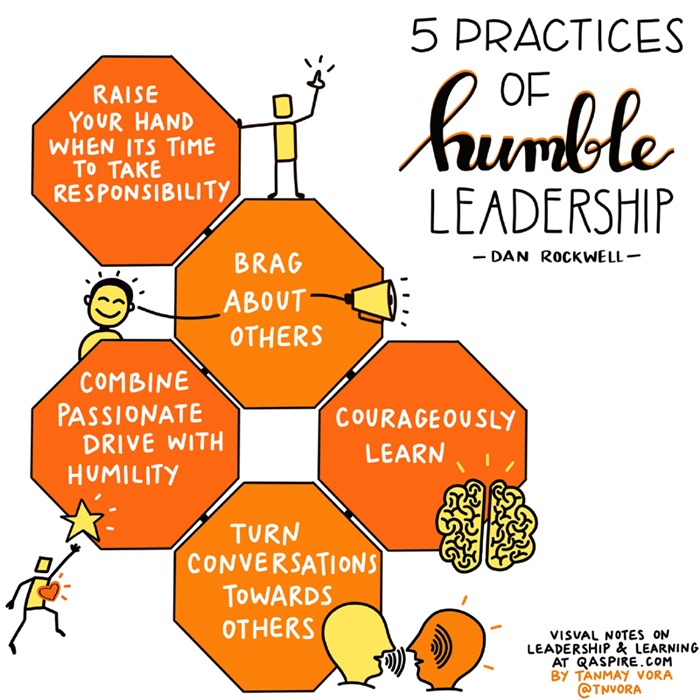 Update: If you are an email subscriber, please refer to our Privacy Policy here.