When you consistently create novel work with care and attention in a way that changes others for better, you can call yourself a craftsperson.
Because craft is about adding your uniqueness into each piece of work you ship. Craft is about creating an experience for others through your work. Craft is about generous sharing with your community. Craft is about exercising your judgment, nuanced process and intuition through your work. It is about adding your unique personality in the work.
Craftsperson is someone who delivers consistently, shapes a conversation, resets the expectation and makes a difference. Craftsperson is someone we look up to.
Laetitia Vitaud in her Medium post titled "Back to Craftsmanship" says:
human work will produce value when it's not machine-like and that artisanal work can be expected to thrive. Routine work is essentially alienating work whose automation or crowdsourcing is a liberating phenomenon.
Craft, in this day and age, is not just about traditional art as we know it. The spirit of Craft is visible when someone engineers an experience, writes elegant code, builds a new business model, writes a piece that moves us, teaches in a way that changes people, sells in a way that creates win:win and connects in a meaningful way.
Martin Luther King, Jr. famously said,
"If a man is called to be a street sweeper, he should sweep streets even as Michelangelo painted or Beethoven composed music or Shakespeare wrote poetry. He should sweep streets so well that all the hosts of heaven and earth will pause to say, 'Here lived a great street sweeper who did his job well."
We can do our work as a "routine" or we can use it as an opportunity to truly express ourselves. It is the latter that builds meaning of our work and insulates us from long ranging effects of technological forces like automation.
Here is a sketchnote summary of insights from Laetitia Vitaud's post.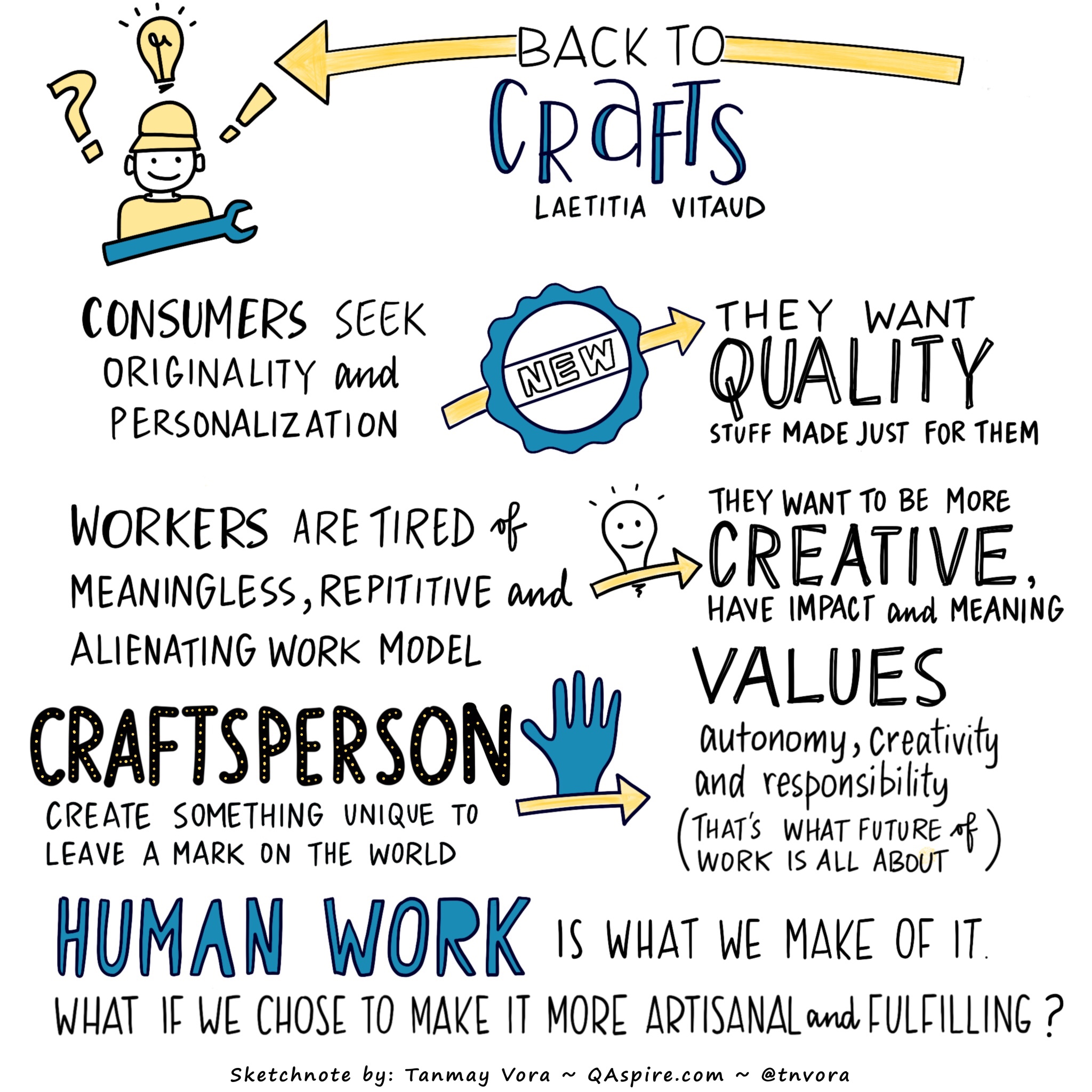 P.S.:
Last month, I was interviewed by kind folks at IMD1 (I am the One) portal where I shared my insights on leadership and art. Do read the full interview here.