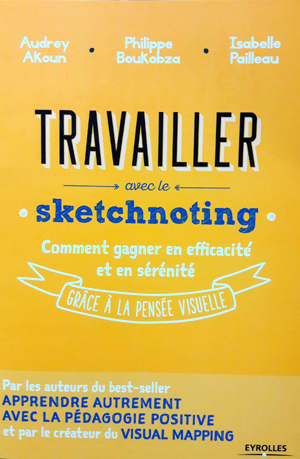 "For every disciplined effort, there is a multiple reward." – Jim Rohn
I started creating sketch notes only in mid of 2015 as an experiment to learn better and simplify ideas. Little did I know that this experiment will grow into something amazing.
I have been in pursuit of simplifying ideas and extract signals in a noisy world since 2009 when I wrote my first book #QUALITYtweet. My sharing on Twitter, experiment of 100 word posts and lists are all directed towards brevity without losing the substance of the message. I have learned a great deal out of it.
"It is my ambition to say in ten sentences what others say in a whole book." – Friedrich Nietzsche
I was happily surprised last year when Philippe BouKobza reached out to me with a few questions on my journey in creating sketchnotes for his upcoming book. Earlier this year, the interview and a sample sketchnote was published in a French book titled "Travailler avec le sketchnoting. Comment gagner en efficacité et en sérénité grâce à la pensée visuelle" roughly meaning "Work with sketchnoting. How to gain efficiency and serenity through visual thinking.". It is an excellent resource for sketchnote enthusiasts and I wish the book comes out in English sometime soon.
Since the interview is published in French, I thought of sharing the insights here in English too (some people also requested this on Twitter). So, here it goes:
Since when do you use Visual note-taking / Sketchnoting?
[Tanmay Vora] In school, I remember using the last page of my notebooks to doodle. Back then, I used to write my own name in different ways and experiment with letters. After I got into corporate life, I have used visual notations, process flow diagrams and blocks to make sense of things while consulting customers and during internal team meetings. But I got started into visual note taking only in mid of 2015. I only wish I had started sooner.
How did you discover this technique?
[Tanmay Vora] I discovered the technique of visual note taking through a blog post on the same topic by Abhijit Bhaduri. I have been blogging about leadership, learning and quality since last 10 years and I found a great new way to represent some of these ideas visually to simplify the understanding for myself and for the readers. I learned a great deal from the wonderful sketchnote community on social media where people like Mike Rohde, Mauro Toselli and many others generously share their learning on art and craft of creating sketchnotes.
In your opinion, what are the benefits of Sketchnoting?
[Tanmay Vora] I think the biggest benefit of creating and consuming information in sketch note form is that it simplifies learning and eases comprehension both for the creator and for the consumer. Visual metaphors allows the brain to fill the gaps enabling connection and synthesis of ideas. I find sketch notes a great way to organize and summarize the insights in a way that raises attention and engagement.
John Medina, in his book "Brain Rules" said that we remember 15% of what we read (text), 35% of what we see (pictures) and 65% of what we read and see (text + pictures). Visual notes are a great tool for sense making and easy communication of ideas.
· What are your main uses of this technique?
[Tanmay Vora] I use visual notes extensively to:
Simplify learning for myself and others

Summarize insights on leadership, learning and quality

Sense-making through idea synthesis

Brainstorming

Creative problem solving

Visual communication (as social objects) to drive conversations and change
How does your entourage react when they see your sketchnotes?
[Tanmay Vora] Hand drawn sketch notes add a human element into the digital world and that's the reason people instantly connect with sketch notes. My followers on Twitter, Facebook and blog use my sketch notes as useful reminders of some of the most important concepts in leadership and learning areas. I often get pictures of how my sketch notes are decorating someone's home or office space in form of a poster. Sketch notes I created have made it to several live events including global conferences and TEDx talks. I feel immensely grateful when my work intersects with real world and I get positive feedback on how it helps others in their own learning journeys.
Just like I was inspired to create sketchnotes through inspiration from others, my own work in visual note taking has inspired several people to start taking visual notes. I feel very happy when my work sparks inspiration for others. That is why I do everything that I do.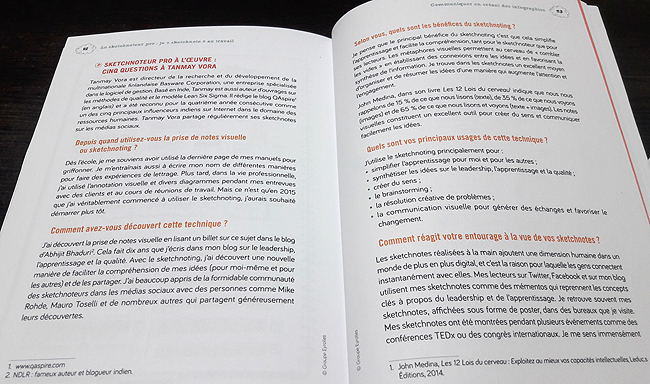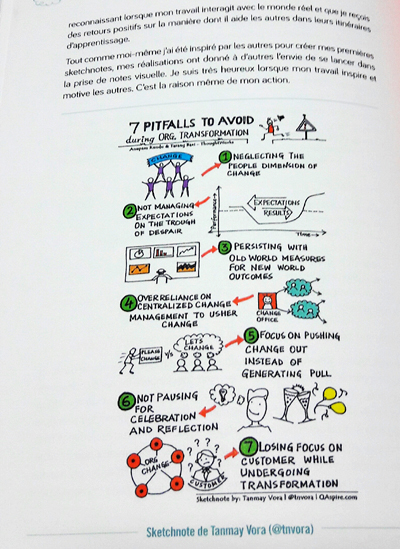 Also See: What Creating Sketchnotes Taught Me About #Learning