At the heart of a meaningful change is someone who thought beyond the boundaries. Someone who challenged the status quo. Someone who exerted emotional labor to pursue, fight for their ideas and convince others. And then they bring about change. You can call them rebels or change makers and they are inevitable for growth and positive change.
Rebels may not be a very popular lot and many bosses I've seen work overtime to subdue the rebels. But great leadership is about providing right channels to direct this energy, nurturing a mindset of continuous improvement and supporting people as they execute their experiments and ideas. That's what rebels expect from their bosses.
"…it's just another one of those things I don't understand: everyone impresses upon you how unique you are, encouraging you to cultivate your individuality while at the same time trying to squish you and everyone else into the same ridiculous mould. It's an artist's right to rebel against the world's stupidity."
― E.A. Bucchianeri, Brushstrokes of a Gadfly
In this context, I love the work that Lois Kelly and Carmen medina do at Rebels at Work community. I have sketched their ideas here before and here's a quick sketchnote of their recent blog post "What Rebels Want From Their Bosses".
This may help you as a leader if you really intend to support rebels in your teams.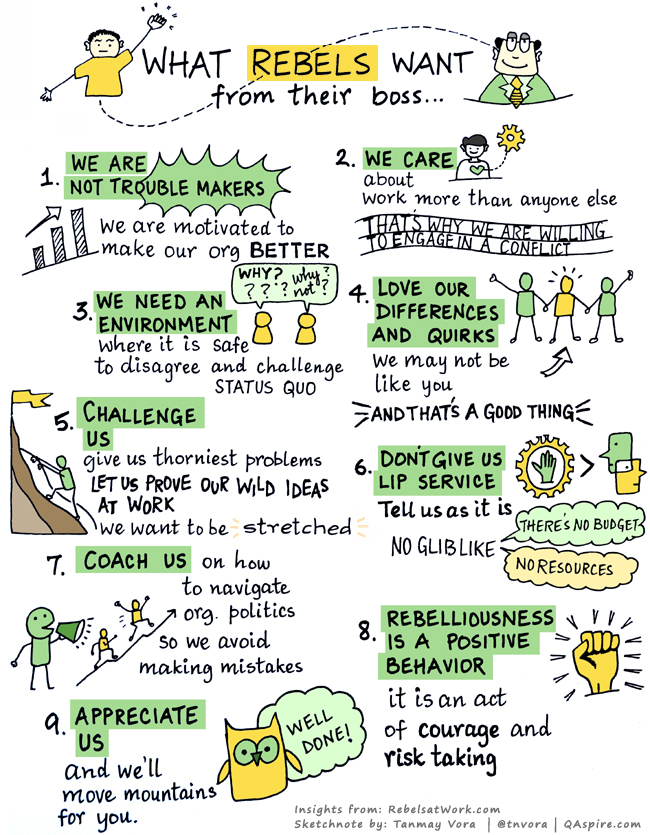 Related Sketchnotes/Posts at QAspire.com