I have been a great admirer of Mahatma Gandhi – one of the greatest leaders India has ever produced.
I recently visited Sabarmati Ashram, one of the residences of Gandhi, where we got a glimpse into Gandhi's life as a national leader. One thing that really struck me was the simplicity of his life and his messages (like the one below):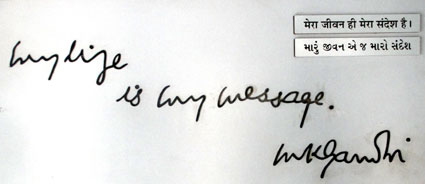 Photo by Tanmay Vora at Sabarmati Ashram, Ahmedabad
Gandhi was a simple leader who used simple language and lived a simple life – yet he was able to concert energies of an entire nation towards achieving Indian Independence. I couldn't resist myself thinking about simplicity in a business setting and wondering, "how many leaders can really do this?"
Leaders frame complex strategies, use heavy weight terminologies to describe their plans, set up complex processes and use a lot of jargons when communicating for a change. They spend heavily on getting those strategies across the board and aligning people to it. Yet, strategies fail because people fail to connect. Leaders always have a choice to simplify or complexify.
Here are a few things I learned:
Simplicity for leaders is important just because the easier it is for people to understand the motives of a leader, the easier it is to follow them.

Simplicity stems from clarity of purpose. When leaders are absolutely clear of their vision, goals and the means to attain those, they can simplify things a great deal.

Simplicity and integrity are highly inter related – when leaders are integral, they think, speak and do things uniformly. People never have to wonder what's on a leader's mind.

Leaders have to nurture simplicity in their teams by challenging them often to think laterally and come up with simple solutions. Simplicity within a team is a product of leading them well.

People will try to add complexity for a variety of different reasons – from an unclear vision to downright negative motives. Keeping them (people who add complexity) at bay is a constant challenge for leaders.

Simplicity is to know what to keep and what to let go, be it the complexity in your processes, or removing excessive clutter around.

Simplicity is the essence of good communication, because it makes connecting with others so easy. People relate better to things they easily understand.

Simplification enables better focus, elimination of waste and higher speed of execution – all of which have been at the core of great companies.
In 20th Century, when Mahatma Gandhi and the nation fought for independence, simplicity worked. Today, in 21st Century, we have seen/are seeing the results of over-complexifying things. Hence, Rosabeth Moss Kanter, a professor at Harvard Business School believes, "The next big trend is simple: to simplify."
So here is a BIG question: How are you contributing towards simplifying the business (of your organization or your customer's organization) and life (yours and people who work with you)?