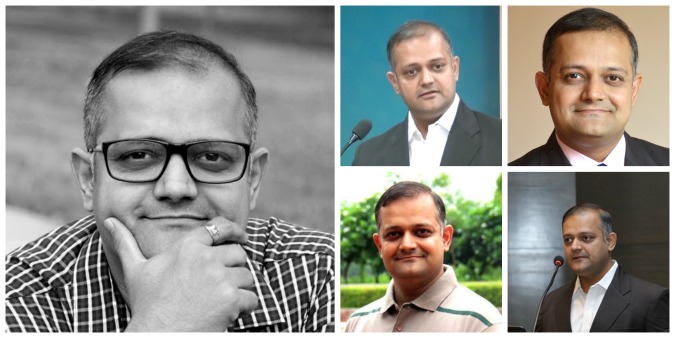 Hi, I am Tanmay Vora.
I started QAspire in year 2006 as a personal archive of lessons I was learning as a new manager. Little did I know that it will eventually become a labor of love and grow to attract tens of thousands of visitors each month. What a journey it has been and continues to be!
Here at QAspire, I think a lot about raising the bar for leadership, learning and quality in an ever-changing world of work. I currently serve as Director (Product Development, R&D) and Country Head at Basware Corporation where I focus on providing cross-functional leadership, building organization culture, delivery excellence, talent management and leadership development.
As an author, I have written two books on quality leadership and has contributed in several other eBooks and books including a full chapter in "The ASTD Management Development Handbook (ASTD Press, 2012). I have been a contributing writer to several renowned magazines and blogs. On this blog, I have written more than 700 posts so far capturing my lessons on better leadership. My goal as an author is to simplify learning for others without losing the essence of the insight.
He is a rare signal in a world full of "blah blah" noise.

– Dr. Liz Alexander, USA
As an illustrator, I create sketchnotes to capture and simplify complex ideas visually. I extend the goal of simplifying learning, provoking thinking, enabling sense making and deeply connect people to ideas through visual notes. My sketchnotes have occupied the screen space at many international conferences and TEDx talks apart from being featured in magazines, internal corporate workshops and office spaces.
"The excellent @tnvora cleverly summarizing on one sheet of paper what usually takes 20 blog posts or 100 tweets."
As a speaker, I engage audiences (online and offline) through speaking assignments and corporate workshops on topics like: Leading and Learning In a Connected World of Work, Building Organization Culture, Agility, Critical Thinking for Leadership Development and Assessment, Career Building in an Uncertain World, Personal Mastery and Soft Skills. He has spoken at prestigious organizations like xCellon Business School, HR Summit 2016 (Chandigarh), Adani Foundation, Nirma University, Agile Alliance Conference, Ahmedabad PMI Chapter and Knowledge Consortium, Government of Gujarat.
"Tanmay's experiential session inspired participants for aiming high in life. His talk was filled with short stories and anecdotal evidences that inspired the participants to become better leaders."

– Devang Patel, Academic Head, xCellon Business School
As a consultant, I lead through influence and enable organizations in building effective teams, developing leadership, initiating and driving strategic change, implementing best/next practices in building great products and changing mindset to learn, survive and thrive in a complex world of work.
Tanmay has brilliant capability to form understanding of client's overall needs and turn them into concrete solutions.

– VP, IT Services Company in Finland
For more information, visit his profile at:
| Twitter: @tnvora
Recognitions
---
Media Mentions
---
Save