Sketchnotes Featured At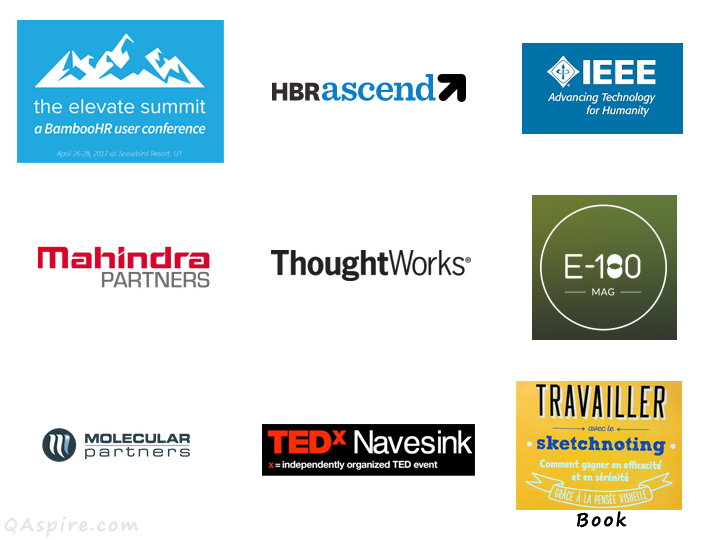 Testimonials
Moon Moon Roy, DGM (HR), Mahindra Partners, India

"An exemplary job in translating the program inputs for our first ever "Signature Learning Program" to sketch notes that were comprehensive and aesthetic. They resonated well with the different program stakeholders."

Patrick Tanguay, Editor in Chief, e-180 Magazine , Canada

"We love Tanmay's sketches and have linked to a number of them from our newsletter. We decided to also include one in our print magazine because we feel he has a knack for communicating in a quick graphical way some more complex topics. Making them easier to understand and remember."

Daniel Steiner, PhD, Vice President, Molecular Partners, Switzerland

"In a super fruitful collaboration Tanmay helped us to visualize some of our key leadership principles. The results fully matched our very high expectations and reflect the passion and love that Tanmay puts into these sketch notes. Tanmay's way of visualizing complex topics in a simple and very esthetic way is just great. Big thanks from our side."

Deepak Maheshwari, India Program Chair, Internet Inclusion: Advancing Solutions, IEEE

"It was a pleasure to have Tanmay with us during the IEEE event 'Internet Inclusion: Advancing Solutions' (IIAS) held in Delhi on September 15, 2016. The six post-facto infosketches by him stood out for their cognition, clarity and compassion as these comprehensively captured the ideas of a diverse set of experts discussed through the day in a myriad of different formats. These infosketches were also featured on the event website as well as included in the event report."

Brenda Travassos, BambooHR

"Please accept our deep appreciation on the illustrations you did recently for the sessions at our Elevate Summit User Conference. We were amazed by the way you were able to discern the core message of each presentation and portray it so well in graphic form with limited guidance from us. The illustrations were very well received by conference participants and speakers alike. Participants liked being able to see in a glance the message of the session, and to be able to take home such a concise summary. The speakers felt that you had captured their core message in a fun and attractive manner."
How Can You Use Sketchnotes?
You can use sketchnotes to:
Document ideas, insights and lessons in an easy-to-grasp format

Create posters from sketchnotes and sketchquotes for your office

Brainstorming and Creative problem solving

Propagation of ideas (marketing) that is free of clutter and content

Increasing engagement and reach by helping people remember and share key insights shared in talks, workshops and conferences

Summarize the essence of books, articles and talks in one page!

Use visual communication (as social objects) to drive conversations, cultural change and transformation.

For Self-Learning, Synthesizing and Sense-Making
I am based out of India and I selectively do #sketch notes (offline) for talks, ideas, concepts, conferences, books and other internal/external communications. Please contact using co-ordinates provided in the sidebar.
My Sketchnotes Gallery
All my work can be found through posts containing sketchnotes on this blog.
Follow Tanmay's board My Sketchnotes on Pinterest.
Responses on How Sketchnote Helps
Tanmay Vora's visual synthesis adds value by showing connections that may not have been obvious in our article…The network enables us to co-create new context and add meaning. I have never met Tanmay but we have become knowledge co-creators. This is the power of social learning in digital networks, enabling knowledge to flow in directions we cannot know in advance. – Harold Jarche

"The excellent @tnvora cleverly summarising on one sheet of paper what usually takes 20 blog posts or 100 tweets." – Neil Tampling

Tanmay Vora's sketchnote on why they're awesome is awesome! – International Forum of Visual Practitioners

Very nice, I like your visual style. Resonates well with my picture processing brain. – DDVassuer

Handrawn is a human element in a digital world. – Anne McColl

"I use this @tnvora diagram the time with my patients who are digital-savvy." – Kenny Gibson

Brilliant stuff. You have made learning easy for me Thank you for sharing. – Ruchi B

We process visuals 60x faster. Sketch notes would definitely increase comprehension/learning. – Susan McIntire

I just wanted to thank you for some of the most fabulous & creative picture-dialogue I've seen – Kenny Gibson

The insights from your drawings are inspiring. – Bruce Watkins

Oh so true! Appreciate you for making the world a tad better place for learning & living – Sadhan KB

Great #sketchnote. In fact, I love all your sketch notes. Great illustrations of important messages – Stephen Huppert

Brilliant Ideas shared in a very succinct & engaging manner. Thank you – Arun Kaimal
Also Featured At
Save Save Save Save Save Save
Save
Save
Save
Save
Save
Save
Save